3rd Joint UNAIR-USM Conference: International Conference of Pharmacy and Health Sciences 2020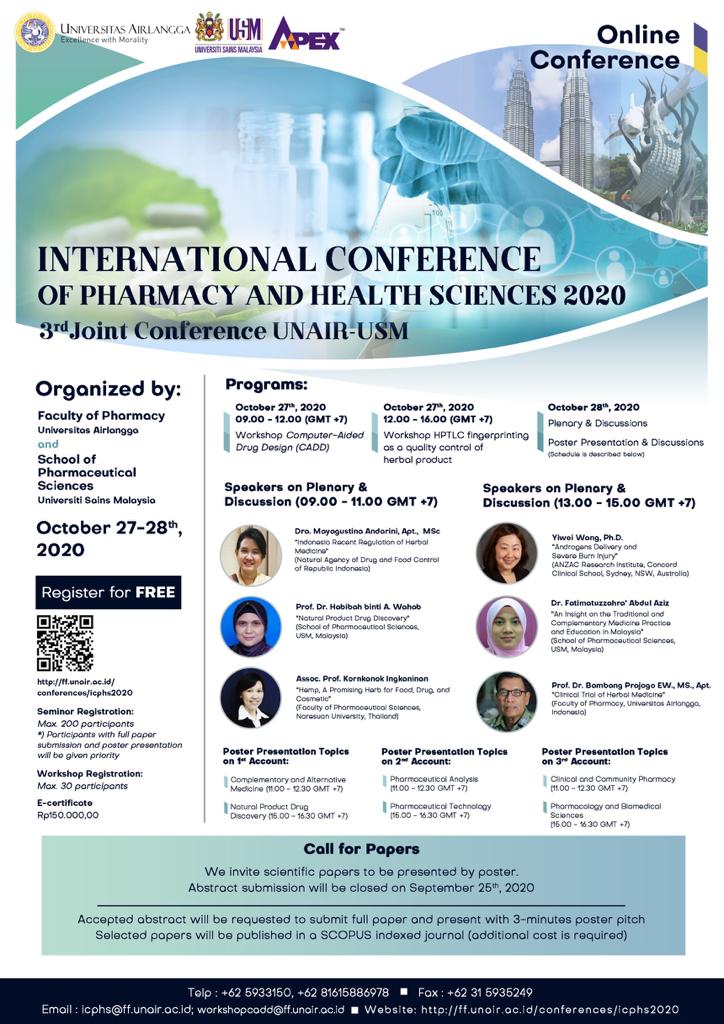 Call for papers 📣
We are proud to announce that registration for the 3rd Joint UNAIR-USM Conference: International Conference of Pharmacy and Health Sciences 2020 is now open!
This conference is organized by Faculty of Pharmacy Universitas Airlangga and School of Pharmaceutical Sciences, Universiti Sains Malaysia.
Date: 28th October, 2020 (Wednesday)
Time: 08:00 (GMT+7)
Platform: Video conference (to be announced later)
Selected papers will be published in an indexed journal (Scopus).
The deadline for abstract submission is on the 25th of September 2020.
Participants can also register for 2 online pre-conference workshops that will be held on the 27th October 2020, which are:
⏩ Workshop Computer-Aided Drug Design (CADD)
⏩ HPTLC fingerprinting as a quality control of herbal products
Register at http://ff.unair.ac.id/conferences/icphs2020 and for more information please send emails to icphs@ff.unair.ac.id or workshopcadd@ff.unair.ac.id
Looking forward to your participation!
Regards,
Organizing committee,
3rd Joint UNAIR-USM Conference